Specialized Train & Railcar Services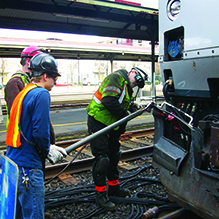 Drummac's knowledge, skillset, and experience make our teams uniquely capable to offer a wide range of services to the transportation industry. In partnership with the Moran group of companies, we are a single source of integrated services for many of our clients.
Specialized services include:
Track inspections and repair
Private railcar service (mechanical, cleaning, and toilet pumping)
Special event train service (inspections and maintenance)
Switch engine service (inspections and maintenance)
15-day, 92-day, and 180-day inspections
Fueling locomotives
Wheel changeouts
Consulting
Detail E-cleaning
Facility, parking, and rail yard laborer services
Emergency or off-site equipment servicing
Plus more...